Research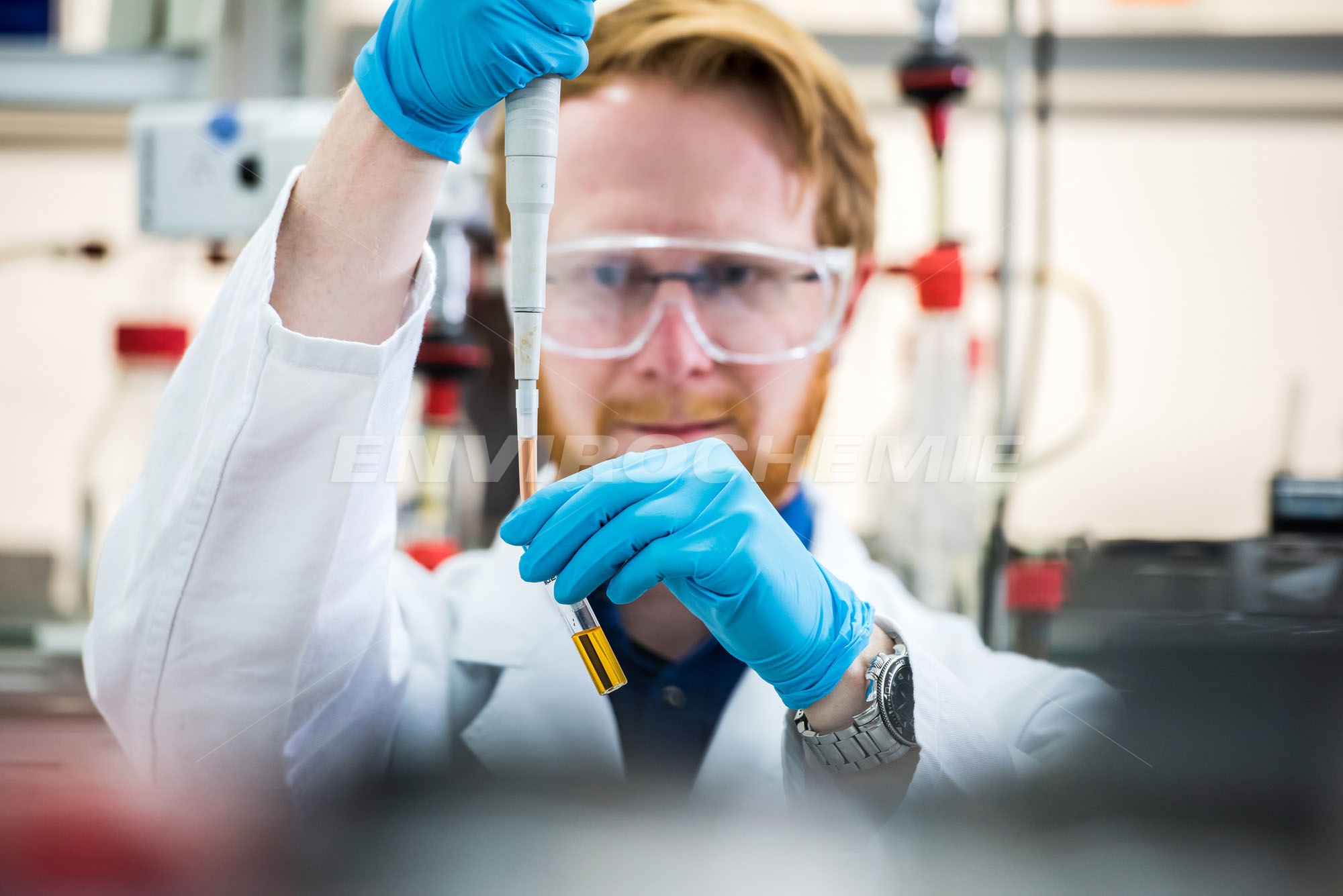 Research in new technologies and further development of plants
The legal requirements for wastewater discharge change, and so do the needs of customers in industry and commerce in relation to the water qualities used in production. For example, companies are increasingly looking for ways to recycle or reuse water. As a result, there is growing demand for technologies that are energy-efficient and conserve resources. What is more, global challenges, such as limited water reserves and climate change, demand new technologies for the future.
Our research and development department possesses a high level of problem-solving skills, which is the result of the interdisciplinary composition of the team. Biologists, chemists, process engineers and environmental engineers with many years of experience in water technologies work together in research projects with leading universities and research institutes.
Current projects
In addition to the continuous development of our processes and products, we regularly participate in German and European collaborative research projects. In internal research projects, we specifically examine key areas that we regularly redefine based on current developments, as well as issues that arise as a result of the needs of our customers.


EmiStop – Microplastics in industrial wastewater
Envirochemie is coordinating the EmiStop joint research project, which sees industrial wastewater examined for microplastics for the first time. The aim is to systematically classify individual wastewater treatment technologies in terms of their ability to retain microplastics. With this in mind, Envirochemie is carrying out relevant classification tests and identifying potential for optimisation in terms of both design and process technology. It is also developing and implementing optimised system technology on this basis, along with flocculants designed to improve the microplastic retention capabilities of existing and future wastewater treatment technologies.
www.emistop.de
WaReIp – Water Reuse in Industrial Parks
The WaReIp joint research project looks at ways of closing off water cycles in industrial parks. The wastewater that collects in industrial parks is treated in cascade-like processing phases depending on requirements for use in other production facilities. To this end, EnviroChemie carries out research into electrically driven membrane processes for the desalination of wastewater streams.
www.wareip.de
ZeroTrace – Elimination of micro-pollutants
The aim of this joint research project is to remove micro-pollutants, such as residual drugs, from communal and industrial wastewater using adsorptive processes. It specifically looks at developing new adsorption materials that can be regenerated on a local basis. EnviroChemie will play a major part in the concept relating to the regeneration of the adsorption material and will be operating pilot plants with real wastewater streams.
www.machwas-material.de/ZeroTrace
Re-Salt - Recycling industrial saline process water
The Re-Salt joint research project looks for environmentally friendly ways to recover salt and water from industrial wastewater. This involves removing and concentrating table salt from one of project coordinator Covestro's industrial wastewater streams. As part of this joint research project, EnviroChemie tests the high-pressure reverse osmosis method for the energy-efficient concentration of the table salt and develops the concept for technical implementation. This includes checking materials, selecting components, and designing a pilot plant.
resalt.web.th-koeln.de
BRAMAR - Brazil Managed Aquifer Recharge

BRAMAR is a German-Brazilian joint research project whose objective is to improve water management in semi-arid regions of Brazil. In this context, Envirochemie focuses on water recycling in industrial production. Different process concepts with chemical-physical, biological and membrane-specific processes are examined in laboratory experiments in Germany and in pilot plants in Brazil.
www.bramar.net/en/
ElektroPapier - Paper-based electrodes
Development of paper-based electrodes for microbial electrochemical wastewater treatment: Envirochemie is the project coordinator in the ElektroPapier joint research project, which pursues the approach of producing electrical energy from microbial activity in the decomposition of the constituents in wastewater. The objective of the project is the operation of a pilot plant with real wastewater flows (municipal and industrial). To achieve this, innovative paper-based electrodes will be developed, microbial electricity production examined and a pilot plant with optimised flow conditions designed and built, among other things.
www.elektropapier.com - www.machwas-material.de/ElektroPapier
Completed projects - examples
ESiTI – wastewater treatment plant of the future
Energy storage interacting with technical infrastructure between the poles of energy production and energy consumption: In the ESiTI joint research project, the options for flexibilising the energy flows in a sewage treatment plant are examined from technical, ecological, economic and social points of view. The work of Envirochemie focuses on the further development of anaerobic biological processes with respect to flexible operation and optimised energy output (high-load digestion).
www.esiti.de
AKIZ - Integrated wastewater concept for industrial zones
Exemplified at the Tra Noc Industrial Zone in Vietnam, the AKIZ joint research project, sustainable water technology concepts were devised to overcome wastewater problems associated with industrial dischargers in Vietnam. The main focus here was on the adaptation of new water technology to local requirements using simplified operating concepts and robust components. In this context, Envirochemie developed a pilot plant for resource recovery using membrane technology, and implemented this on a pilot scale. The pilot plant was successfully operated on site in Vietnam. 
www.akiz.de, www.germanwaterpartnership.de
NanoPurification - water treatment with nanocomposites
Development of progressive materials and processes for water and wastewater treatment involving the use of functional nanocomposites. The overall aim of NanoPurification was to develop innovative nanoscale substances and materials and see them transferred to the conventional water treatment and wastewater disposal sector. In this context, a water treatment system was developed combining nanoscale composite microfilters with UV decontamination in order to create a highly efficient and multifunctional solution. Envirochemie implemented a pilot application in the industrial water sector in which new ground was broken in the manufacture of microfilters as well as in the use of UV LEDs.
www.nano-water.de
AquaFit4use - Recycling of wastewater-/process water part-flows
The European project for the sustainable use of water in industry. As part of the "AquaFit4use" joint research project, research was undertaken into the recycling of wastewater flows and process water part-flows in various water-intensive industrial production contexts such as the paper industry, but also the food and textile industries. Cross-industry process chains for recycling water were devised and new solutions in water technology were developed. The key priority was the reliability of the processes involved, taking account of the cost situations in the sectors concerned. The tasks included intensive laboratory studies into selected recycling technologies, as well as verification of the processes involved and optimisation on a pilot scale.
www.aquafit4use.eu
Watch our project video clip on YouTube!
Water recycling for hotels, leisure- and shopping centres
The purpose of the KOMPLETT joint research project was decentralised high-tech water recycling. The objective of the undertaking was to purify grey and foul water from houses, offices and hotel complexes to the maximum possible extent (even taking the grey water right up to drinking water quality). The plant technology developed by Envirochemie was subjected to comprehensive tests. Once purified, the water was reused in the buildings for the purpose of washing clothes, flushing toilets or showering.